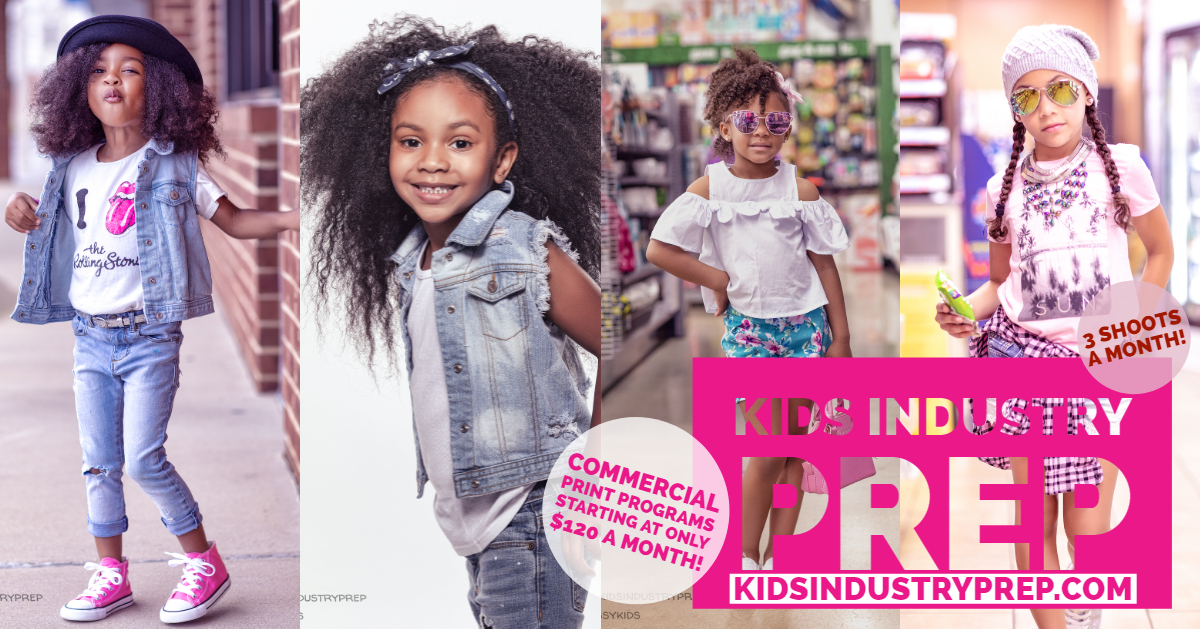 Affordable Branding and Marketing through photography and videography.
Kids Industry Prep LLC Program: This is where those that are serious about the entertainment industry can receive professional branding and marketing through photography, videography, social media etc. With a retail value of $1200 worth of services and products, we want to make sure that you and your child are serious about the industry.

Commercial Catalog Photography ($120 month) - Package for the industry professional that is interested in basic shoots to provide to their agents.
Shoots based on your availability

Head-shots (Smile / No smile)

Industry Required Photo-shoots for your portfolio (level based)

Basic Posing Classes

Age Specifications: Great for youth 9 & under.
Advanced Editorial Photography. Program for the industry professional that is interested in showing their range and skill.
Scheduled shoots based on your availability

Editorial Fashion Shoots

Beauty Portraits

Location Shoots

Advanced Posing Classes

Age: Perfect for Adults and Teens

Shoot Challenges
Optional:
Acting Academy
Media Prep
Modeling Academy
Who is your ideal member: Our ideal members is anyone that can benefit from heightening of their social media presence and personalized training & activities.
Why us though? We know that getting started in the industry is very expensive. Several agencies will force you to pay over $2500 just to represent you. Why? Because you were not prepared. You didn't have Head-shots & commercial photos for their online catalog, acting workshops, runway, Print training etc. No matter where you go, you will have to pay for tangible and non-tangible items, however it should not cost an arm and a leg!
At KIP we recommend you go and seek representation, we want to make sure you are packaged and ready for the industry first. Since we are gaining our mark in the community, our relationships with local industry professional has grown. Several of our children have gained representation while being in the program either by referral and/or recommendation and guidance. Several were represented prior to joining and just need continuous marketing & branding. In conclusion, there will always be a need for branding for as long as you are in the entertainment industry.
IMPORTANT: Although we offer a separate Management and Talent service, this KIP LLC Commercial Print Program is not NOT to be confused with a modeling agency, a management agency, nor a talent agency. With that being said, it is your responsibility to follow through with the guidance we provide to you. This program is for individuals who are serious about succeeding in the entertainment industry. If you want just pretty photos at a discounted rate, you will need to purchase a photography package.